In "Best Self Defense Weapons For Female," you'll discover a comprehensive guide to the most effective and user-friendly personal safety tools available. Designed to boost your confidence while ensuring your safety, these weapons are easy to use, carry, and conceal. Empower yourself by learning about these handy devices that can make a significant difference in unforeseen situations. Equip yourself with knowledge to keep yourself protected, feeling secure and prepared, anytime, anywhere.
Pepper Spray
Key Features
Hey there! Let's start with one of the most common self-defense tools, the Pepper Spray. Its key features are its compact size, it's easy to carry and can be used from a distance. Containing a compound called oleoresin capsicum, it irritates the eyes and respiratory system upon direct contact, causing temporary blindness and difficulty in breathing.
Advantages
Pepper spray gives you the primary advantage of protection from an attacking person or creature at a range. You can safely use it without getting too close to the threat, and it's highly effective. It also has no long-term harmful effects and is legal to carry in most places.
Disadvantages
One downside to pepper spray is the risk of wind direction affecting its deployment, potentially causing back-spray towards you. It's also not fool-proof as those familiar with it may be able to shield their face or eyes, minimizing its effects.
Tips for Use
Remember, when using a pepper spray, always aim for the eyes and be aware of the wind direction. Make sure to get proper training in its use to handle it professionally in a time of emergency.
Taser
Key Features
Next up, is the Taser. It is a brand name for a handheld device that delivers a high voltage electrical shock, incapacitating the attacker. It's effective at a range, and some models also work close-up as stun guns.
Advantages
The main advantage of a Taser is that it can quickly immobilize an attacker from a distance, allowing you ample time to escape and call for help. Unlike firearms, Tasers are also designed to be non-lethal and generally much easier to use.
Disadvantages
However, Tasers do bear some risks. For instance, repeated or prolonged exposure can cause injury or death. The device itself is expensive, and in some areas, there might be restrictions on its purchase or use.
Tips for Use
When using a Taser, you aim at the large muscle groups like the chest or thighs. It is crucial to keep in mind that while it is a powerful deterrent, like all self-defense weapons, it should be used responsibly.
Personal Safety Alarm
Key Features
Personal safety alarms, also known as panic or rape alarms, are small handheld devices that emit a loud siren-like sound when activated. They are typically compact, portable, and easy to use with the push of a button or pull of a pin.
Advantages
The primary benefit of a personal safety alarm is attracting attention. The loud noise can scare off an attacker, draw the attention of passersby, and signal for help.
Disadvantages
The effectiveness of a personal safety alarm relies heavily on the surrounding environment. In isolated areas, there may be no one around to hear the alarm. And it does not physically deter an attacker.
Tips for Use
Personal safety alarms are best used in populated areas. Ensure that your alarm is in an accessible place when walking alone or in potentially unsafe situations.
Kubaton
Key Features
Now, let's talk about the Kubaton. This is a small, handheld stick made of a hard material like metal or hard plastic. It's lightweight and often designed to attach to your keychain for easy access.
Advantages
For such a small and unassuming device, the Kubaton packs a punch. It can be used to strike an attacker's sensitive areas, such as the face, neck, or hands, effectively assisting in self-defense.
Disadvantages
However, it requires training and skill to use effectively. While it's a useful tool, the close range may put you at risk.
Tips for Use
Take a workshop or watch some instructional videos online to learn how to handle a Kubaton correctly.
Stun Gun
Key Features
The stun gun is another well-known self-defense tool. Unlike a Taser, it requires direct contact with the attacker to work by delivering a high voltage, low current electrical shock.
Advantages
Being compact and easy to carry, stun guns can deliver a painful and immobilizing shock, giving you time to escape a dangerous situation.
Disadvantages
Stun guns require close contact with the attacker to be effective. Also, their legal status varies by location, and they do pose some risk of accidental discharge or use.
Tips for Use
Aim for the upper torso or the hips. It's crucial to understand that stun guns are to be used responsibly and as a means of self-defense only.
Whistle
Key Features
A whistle might not seem like much of a self-defense tool, but its high-pitched sound can serve to disorient an aggressor or alert nearby people.
Advantages
Whistles are highly accessible and easy to use. They are also universally recognized as a signal for help, which can be advantageous in alarming situations.
Disadvantages
Like personal safety alarms, a whistle's effectiveness can decrease dramatically in isolated locations with no one around or noisy environments where it may not be heard over the background noise.
Tips for Use
Always carry a whistle in an easily accessible place, and don't hesitate to use it if you feel threatened.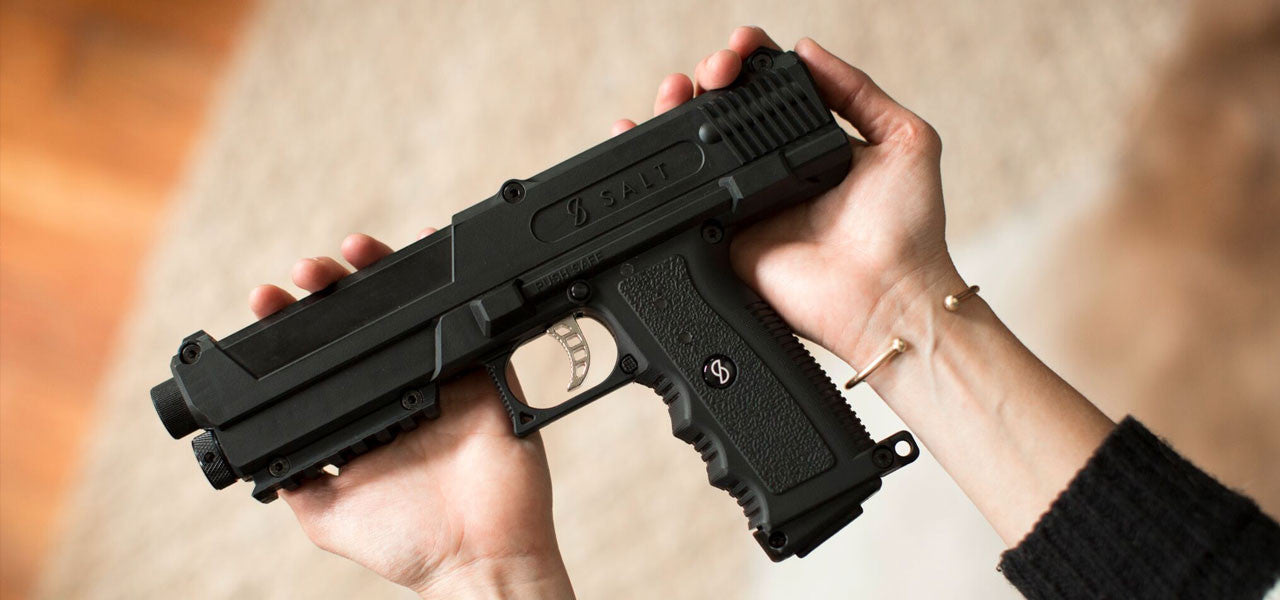 Self-Defense Keychain
Key Features
Self-defense keychains are compact, lightweight tools designed to fit onto your keychain. They come in many forms, from sharp pointy ends to miniaturized pepper sprays.
Advantages
Aside from their portability, these tools are also relatively inconspicuous given their mundane appearance. They can offer the element of surprise to an unsuspecting attacker.
Disadvantages
Like other close-range self-defense tools, these can put you close enough to the attacker to be at risk.
Tips for Use
For these, select a design that suits your comfort level and learn how to use it effectively.
Personal Safety Apps
Key Features
Personal safety apps are phone applications designed to alert trusted contacts or authorities in times of emergency. Functions often include GPS tracking, audio and video recording, and alarm functions.
Advantages
These apps offer myriad advantages from easily informing loved ones of your whereabouts to quickly contacting emergency services with the press of a button.
Disadvantages
Most of these apps require a mobile data or Wi-Fi connection to function fully, and the reaction time may be affected by the responsiveness of your contacts or local authorities.
Tips for Use
Ensure to update your emergency contacts and check for consistency in the app's service.
Flashlight
Key Features
While basic in nature, a sturdy flashlight can serve both as a source of light and a potential self-defense tool.
Advantages
A strong beam of light can help to momentarily blind or disorient an attacker, and a sturdy metal casing can serve as a striking tool.
Disadvantages
As a blunt force item, it requires close contact to be used defensively, and its effectiveness is relative to the individual's strength and skill.
Tips for Use
Flashlights with adjustable light intensity or a strobe feature can be more efficient for self-defense.
Firearms
Key Features
Firearms, such as handguns, are potentially deadly armaments that launch projectiles driven by rapidly expanding high-pressure gas produced by chemical reactions.
Advantages
Firearms can provide immense defensive power at a distance, and their force is generally recognized and feared universally.
Disadvantages
However, they bear the utmost risk, needing proper training and stringent legal requirements for possession and use. Misuse can result in severe injury, death, and legal repercussions.
Tips for Use
You must have a full understanding of the safety rules of firearm handling, undergo regular training, and ensure secure storage when not in use.
Remember, ultimately the best tool for self-defense is vigilance, awareness, and the willingness to take action when necessary. Stay safe, and be prepared!